[button_row]Call (913) 845-7951 to Order![/button_row]
[dyncontent name="hero-section"][/dyncontent]
[general_content wide="true"]
Economical Manual Bagging Scale
Model OM-2 | For Dry, Free Flowing, Granular Products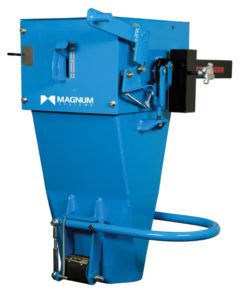 The OM-2 is a mechanical bagging machine that utilizes a patented self-damping beam scale for reliability and accuracy. The flow control regulates the speed of material going through the scale and can be adjusted for light or heavy density material. The OM-2 is completely mechanical requiring no compressed air or electricity.
Features: 
Nonconcentric Bag Clamp for positive grip on bag
Gross Weight Scale Operation
Bagging Rate: Up to 15 bpm
Accuracy: within 0.5 lbs
Bag Weight Range: 15 lb to 125 lb (6.8 kg to 56 kg)
Construction: Carbon Steel
---
Semi-Automatic Electronic Bagging Scale
Model TE-100 | For Dry, Free Flowing, Granular Products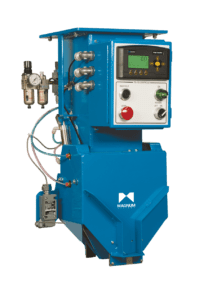 The TE-100 is an electronic bagging machine that utilizes a self-correcting feature that monitors final weights and compensates automatically for precise weighments. The adjustable dribble gate and dual set point fill cycle combine to provide the best speed and accuracy.
Features: 
Bulk & Dribble Fill Cycle
Bag in Place Switch
Self-correcting weight feature
Bagging Rate: Up to 14 bpm
Accuracy: within 0.2 lbs
Bag Weight Range: 20 lb to 125 lb (9 kg to 56 kg)
Construction: Carbon Steel
Electrical Requirements: 110v, Single Phase
Air Requirements: 90 PSI (6.21 BAR) @ 5 SCFM
Enclosure: NEMA 12
For more information on pricing and ordering your bagging scale contact Call 913.845.7951 or Fill Out the Form Below. 
Order Request
[contact-form-7 id="13113" title="Quick Ship Order Request"][/general_content]
[general_content wide=true]
Once your order request is submitted and received, a company representative will confirm details submitted and contact you for payment information. We accept all major credit cards. All sales are subject to Magnum Systems Standard Terms and Conditions located on our Legal Documents page. By submitting a form you are simply indicating purchase intent, this form alone does not finalize an order. 
Shipping is subject to current inventory, though we always aim to keep a sufficient quantity to fulfill orders immediately, please allow process and manufacturing time to either fulfill orders made over current stock levels or to replenish inventory levels to normal state. 
[/general_content]