Rail Car Unloading

Rail cars typically can hold volumes of 3,500 to 5,500 cubic feet and can transport up to 120 tons of raw material at a time. Since there are various rail car types on the market, your system to unload them must be efficient, cost effective, and balanced against the high operating costs of excessively large blower packages when pneumatically unloading and/or the high cost of ongoing maintenance and material exposure from open pit mechanical systems.


Common covered hopper bottom cars are typically unloaded by: dumping them into a pit or attaching a pan and vacuuming the material out via a pneumatic conveying system. If a pit creates problems, a Rail Car Discharge Adapter (RCDA) in a manual clamp style and a single operator sled style can be used to transition from the car's hopper discharge gate to a vacuum pneumatic conveying line.
Truck Unloading

The rate at which you unload dry bulk materials from trucks depends on the product, pipe size and distance. Most PD trucks backed up to a silo base can unload 50,000 lbs. in about an hour (+/- 15 minutes). However, what if that is not possible or not fast enough? An example might be a high consumption terminal that needs unloading every 30 minutes or a silo that isn't accessible from the road and is located 200-300 feet away?
Scenarios like these are why Magnum Systems developed the H-Valve assembly. With our H-Valve, product can be unloaded more quickly or farther away by stepping up the line size just after discharge from the container and proportioning blower air both to and around the vessel for the most efficient use.
With Magnum Systems' H-Valve, the limits of your truck or railcar do not have to limit your unloading rates.
Silo Storage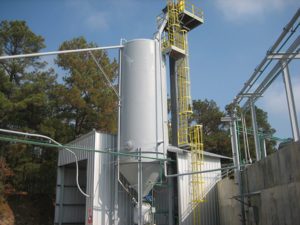 Magnum Systems integrates bulk storage silos into many of our pneumatic conveying and packaging systems. Metering your product from the silo into your process or container can be handled in various ways through airlocks, feeders, butterfly valves and knife gate valves. Our silo offering includes:
Welded or bolted storage tanks
Truck unload station
Bin vents
Storage level indication
Product discharge metering device
Integrated controls package
Bins and Hoppers

Storage hoppers, receiving bins, scale hoppers, inlet hoppers—they are all a way to store your material between conveying and mixing or conveying and packaging, as well as other process equipment. Our scope ranges from a 5 cubic foot extension hopper with high and low level sensors on a bagging machine up to a 300 cubic foot cylindrical scale hopper with inspection doors, level sensors and a hopper top diverter valve within a pneumatic transfer system.


Bulk Bag and Tote

The transporting and temporary storage of dry bulk solid materials in bulk bags or jumbo bags are key to having material on hand for production. Magnum Systems IBC Series of bulk bag filling and unloading systems are designed to consistently and efficiently handle your bulk materials. Typical bulk bags are constructed of poly woven material with capacity from 500 to 3,000 lbs. utilized on bulk material handling equipment including both bulk bag filling and bulk bag unloading.