Northwest Food & Beverage World 2019
Magnum Systems will be exhibiting with our local partner ABM Equipment and featuring our packaging equipment product line. In the food and beverage industry we provide various packaging automation solutions from handling bulk ingredients and filling 2,000 lb bulk bags, to bakery mixes, all the way down to packaging ground coffee into 2oz bags. We also specialize in robotic automation for valve bag placing and bag palletizing.
When: January 14-16
Where: Oregon Convention Center
Magnum Systems/ABM Equipment Booth Number: 1227
---
World of Asphalt 2019

Magnum Systems will be featuring both our pneumatic conveying and packaging product lines that serve the asphalt industry. Specific products to check out will be our Model IAPO cold patch asphalt packaging system and our abrasion-resistant rotary airlock valves.
When: February 12-14
Where: Indianapolis Convention Center
Magnum Systems Booth Number: 10119
---
ProFood Tech 2019
Magnum Systems has served the food and beverage industries for many years with our pneumatic conveying and packaging machinery. Handling products like major and minor ingredients, to coffee beans and even frozen shrimp. Catch us at this year's ProFood Tech by PMMI. We will be presenting our pneumatic conveying and packaging system capabilities. Magnum Systems manufactures quality equipment that is adaptable to your specific needs. Truck or Rail, Bag or Box, we have a solution to keep your line moving.
When: March 26th-28th – View the Schedule >
Where: McCormick Place | Chicago, IL
Magnum Systems Booth: 486  Find us on the Show Floor >
---

Specialty Coffee Expo 2019
Magnum Systems serves multiple areas of the coffee processing industry with both pneumatic conveying and packaging equipment but one of our key targets are specialty coffee producers. Both whole bean and ground coffee are great candidates for our TE-10C net-weigh bagging scale. It allows producers to eliminate manual bagging operations for a more automated approach. We will be showcasing the TE-10C in our booth this year! Stop by and see it's unique design.
When: April 12th-14th – View the Schedule >
Where: Boston Convention Center
Magnum Systems Booth: 255 Find us on the Show Floor >
---

Pet Food Forum 2019
When: April 29th – May 1st – View the Schedule >
Where: Kansas City Convention Center | 301 W 13th St #100, Kansas City, MO 64105
Magnum Systems Booth: 117 
---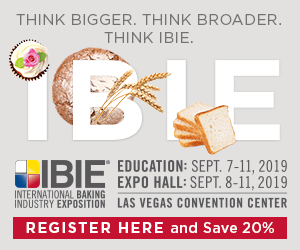 IBIE Baking Expo 2019
When: September 8th-11th 2019
Where: Las Vegas Convention Center | Las Vegas, NV
Magnum Systems Booth: 4434
---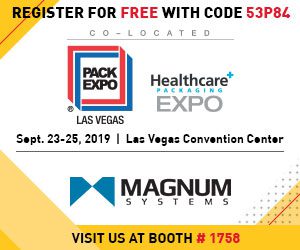 Pack Expo International 2019
When: September 23rd-25th 2019
Where:  Las Vegas Convention Center | Las Vegas, NV
Magnum Systems Booth: 1758
---

Chem Show 2019
When: October 22nd-24th
Where:  Javits Center | New York
Magnum Systems Booth: 211