No matter what type of bag filling equipment you are searching for you will eventually get to the question "How much do I have to pay?". Bagging machines range in size, output capability, level of automation and if you are looking for a complete packaging system you have additional equipment to consider. When pricing bag packaging equipment cost of carbon vs stainless, Nema 12 vs XP rated controls and level of automation are the big ticket items. Today we are going to focus on the latter "level of automation."  Below I have attempted to break down what equipment would be provided in four levels of automation; manual, semi-automated, automated and fully-automated.
Manual Valve Bag Filling System
A manual valve bag system will rely heavily on the operators to do the "heavy lifting" of the work, placing the bag, removing the filled bag, manual palletizing and removal of full pallet with fork truck.
Semi-Automated Valve Bag Filling System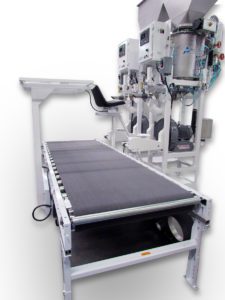 With a semi-automatic valve bagging system you might have a dual or even triplex bag filling station with an operator seat. Manual placement of bags but an integral kicker will be supplied to remove bag from spout to conveyor, manual or robotic palletizing can provided at the end of the line with this level of automation.  With this level of system pallets will be manually placed near the end of the line or robot location. The robot will place bags on a pallet located on the floor to be removed by fork truck. When using a robot a bag flattener must be included to prep bag to be handled by the end of arm tooling.
Single, Duplex or Triplex Valve Bag Fillers

Carbon Steel Construction
Nema 12 Controls

Operator Station and Conveying Accessories

Inlet Storage Hopper
Support Frame
Bag Storage Rack
Operator Seat and Cross Conveyor
Bag Flattener

Robotic Palletizing (Option 1)

(1) Pacing Conveyor
(1) Picking Conveyor
Robot with Base
End of Arm Tool
(2) Pallet Locator Frames
Controls
Automated Valve Bag Filling System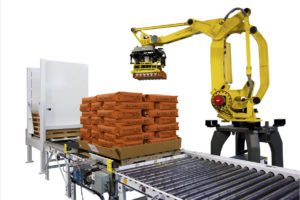 The biggest difference between this level and the previous level is robot palletizing. Depending on your facility's need for production speed and desired level of automation you may want to include a pallet dispenser, slip sheet placer, stacking conveyor and full pallet exit conveyors. When you choose this option you must add more pacing conveyors to your packaging line. This allows time for a new pallet and slip sheet to be prepared and brought into position for palletizing.
Robotic Palletizing (Option 2)

(4-5) Pacing Conveyors
(1) Picking Conveyor
Robot with Base
End of Arm Tool
Pallet Dispenser
Stacking Conveyor
Exit Conveyor
Controls
Fully-Automated Valve Bag Filling System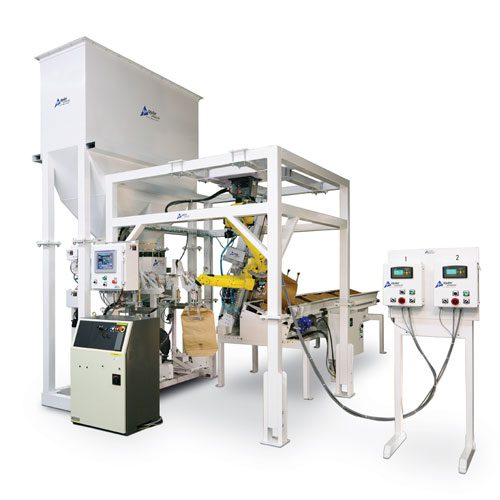 A fully-automated valve bag packaging system would consist of robotic valve bag placing, single, duplex, or triplex valve bag fillers, all accessory conveyors along with robotic palletizing. When placing bags with a robot, it is extremely important to have "automation quality" bags. This plays a big part in system performance. Magnum Systems offers two styles of robotic valve bag placers depending on the type of bags being utilized.
Robotic Valve Bag Placer Option 1

TRV1000 Robot

Suction Gripper with Integral Pre-opener

Vertical Bag Magazine
Support Frame Integral to Fillers
Controls

Robotic Valve Bag Placer Option 2

TRV1000 Robot

Clamp Gripper
Duck Bill Bag Pre-Opener

Horizontal Bag Magazine
Support Frame Integral to Fillers
Controls

Robotic Palletizer Option 2

(4-5) Pacing Conveyors
(1) Picking Conveyor
Robot with Base
End of Arm Tool
Pallet Dispenser
Stacking Conveyor
Exit Conveyor
Controls
Ultrasonic Sealing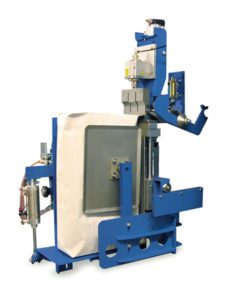 The last addition of automation is the Ultrasonic sealer, which is used on extended sleeve valve bags only. Ultrasonic Sealing works well when packaging products like powdered sugar where reducing product loss during fill cycle and transportation is a high priority. It provides a better seal on the sleeve of the bag than the internal or hand tucked versions. Though it comes with a decent price tag it has its place in the market when the application is right.
Valve Bag System Price Range Breakdown
System

Type

Number

of Fillers

Bag

Placement

Bag

Palletizing

Pallet

Removal

Price

Range

Manual
1
Human
Human
Manual
$20-$30K
2
Human
Human
Manual
$40-$60K
3
Human
Human
Manual
$60-$90K
Semi-Automated
1
Human
Robot
Manual
$170-$190K
2
Human
Robot
Manual
$190-$210K
3
Human
Robot
Manual
$240-$270K
Automated
1
Human
Robot
Automated
$265-$285K
2
Human
Robot
Automated
$285-$305K
3
Human
Robot
Automated
$305-$335K
Fully-Automated
1
Robot
Robot
Automated
$400-$420K*
2
Robot
Robot
Automated
$420-$440K*
3
Robot
Robot
Automated
$440-$460K*
Ultrasonic Sealer
1
$100K
*Pricing is assuming Robotic Placing Option 2
As you can see depending on the level of automation alone, there is a huge range of pricing. Our numbers above range from $20,000 to nearly $600,000. It is important to find a supplier that will have your best interest in mind and provide the level of automation you need. Magnum Systems prides itself on walking through various scenarios with each customer and not trying to force you into an overpriced system that you don't need. We want to give you the best packaging system option that will bring the most value to your process and provides the quickest ROI.
Please note that these prices are ball park figures. If you would like to receive a quote for your specific project please connect with a regional manager.
Submission – Tyler Morerod | MarCom Manager