One of the keys to any rotary airlock valve application is selecting the proper rotor for the intended service. This will make a significant difference in the overall life and performance of the valve. Improper selection could result in accelerated wear, premature failure, additional downtime, reduced efficiency, increased maintenance, product degradation and possible loss of production.
Magnum Systems offers two main rotor designs with various options in our airlock product line. Open end rotors and closed end rotors.  Additional modifications are also available to improve operation, assist in meeting feed rates, and to prevent wear.  Product application, product flow characteristics, abrasiveness, and feed rate all help determine the best rotor design, modification option, material of construction, and coating necessary for optimal results in your bulk material handling system.
Rotor Types for your Airlock: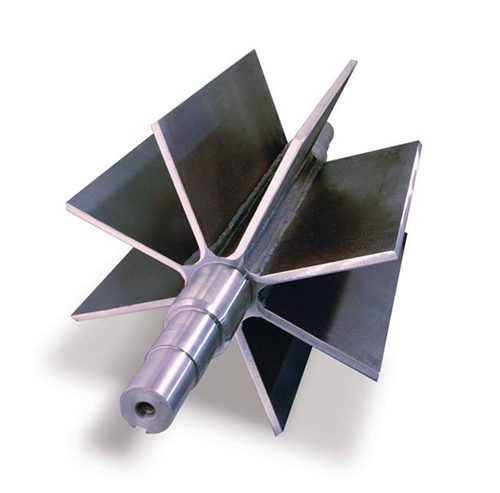 Open End Rotors
Open end rotors can be used in all applications not requiring abrasion-resistant construction. In addition to the cost savings they have slightly more capacity than a closed end rotor. Open end rotors are standard on our Type 1, 3, 4 and 5 style airlock valves.
Closed End Rotors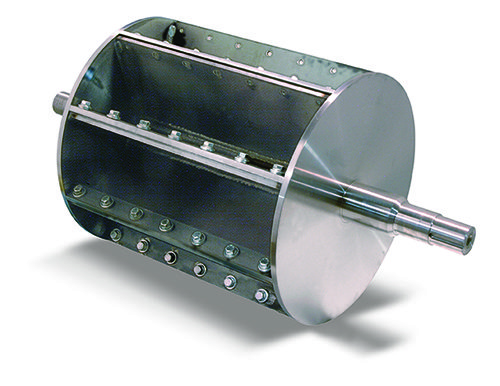 Closed end rotors are best used in applications requiring abrasion resistant construction which come standard on our Type 2 and 8 style airlock valves. For additional protection against abrasive products our patented designed cavity air purge system (CAP) can be supplied in pressure system applications.
Bolt On Abrasion Resistant Tips – 400 Brinell (43 Rc) hardness replaceable tips (Provided on Type 2)
Tungsten Carbide Tile Tips – 69-70 Rc hardness (Provided on Type 8)
Materials of Construction:
Carbon Steel Rotors are standard on most airlocks and handle various materials.
304 Stainless Steel Rotors are for handling food or mildly corrosive materials and provided with our Type 4 valve as a standard.
316 Stainless Steel Rotors are for handling extremely corrosive materials and provided with our Type 5 valve as a standard.
Rotor Modification and Tip Options:
Reduced Capacity Rotors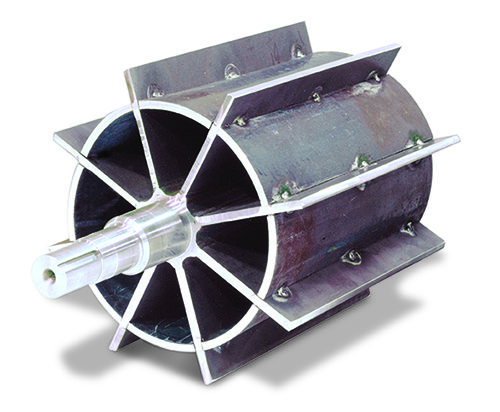 The flow properties of some products require large openings and wide rotor pockets. When low feed rates are required in conjunction with this type of product, it may be necessary to reduce the rotor capacity. This can be done on open or closed end rotors. You reduce the pocket fill area to meet the lower end rates without compromising the metering consistency.
Relieved Tip Rotors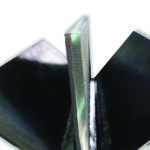 Some materials, such as sugar and similar products tend to build up on the inside surfaces of airlock feeders. Relieved tip rotors minimize product buildup on the interior surfaces. It also reduces noise with certain powder materials by not allowing friction between the rotor and the housing.
Flex Tip Rotors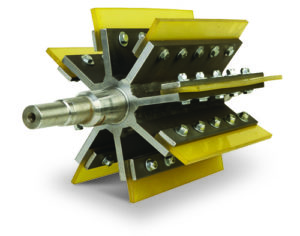 The rotary valve flex tip design allows for any material trapped between the rotor tips and housing will not jam the valve. The standard flexible tips are made of thermoset polyurethane and replaceable. Optional tips available are food grade white neoprene, black neoprene and heavy duty conveyor belting. Flex tips can be installed on either a closed end or open end rotor.
Coating and Finishing Options
Nedox – superior resistance against wear, corrosion, and friction. Surface hardness up to 68 Rc. Good for moderately abrasive sticky materials.
Teflon Coated – economical solution for applications with sticky materials.
Hard Chrome - "Hard Chrome plating (also known as "Industrial Chrome") is applied to ferrous and nonferrous materials to improve wear and abrasion resistance, reduce friction, prevent seizing and galling..."
Magnum Systems has manufactured pneumatic conveying systems, components and rotary airlock valves for more than 50 years. With our experience you can have confidence in our ability to design, engineer and manufacture a quality material transfer system that works.