Location: Kansas City, MO
Contact: Evita Reviera | Production Coordinator
Material Handled: Whole Bean and Ground Coffee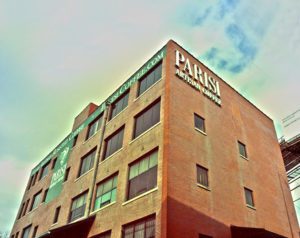 About Parisi Artisan Coffee - "We opened the Parisi Artisan Coffee roasting facility in 2006. Since inception, we have strived to source the highest quality specialty coffee. We have dedicated ourselves to perfecting roast profiles that maximize the natural essence in every bean. There is nothing automated or factory-like about what we do. It is and will always be a craftsman's venture.
Up until 2011, Parisi Coffee had only been available in quality Kansas City restaurants and grocery stores. We opened the first Parisi Café in Kansas City in 2011 to present the finished hand-brewed cup; our art we intended from our roasts. And like our roasting avocation, we work every day to achieve perfection in the craft."
Magnum Systems handles various ingredients and materials with an extensive product line of pneumatic conveying and packaging equipment. When it comes to the coffee industry we have provided coffee handling equipment on both ends of the spectrum from large storage and pneumatic transfer systems to smaller bagging systems for specialty producers such as Parisi Artisan Coffee. At their facility, they bag both ground and whole bean coffee with our Model TE-10C Vibratory Net Weigh Feeders. The TE-10C is designed for coffee applications, filling packages from a few ounces to several pounds. The unit is easy to take apart and clean. It also provides quick change from small to large weighments and produces repeatable accurate results.
Application Summary:
The coffee is processed and placed into bins separating ground coffee vs whole bean coffee. The TE-10Cs are equipped with vacuum fill assemblies where coffee is transferred into the conical hoppers. Once transferred, the operator can start the net weigh fill cycle. The integral vibratory feeder utilizes a bulk/dribble fill method along with weigh scale for extremely accurate weighments. The operator places
a bag on the spout and engages the foot pedal to discharge the coffee from the net weigh bucket into the bag. Once filled, the operator places the bag into a band sealer and the sealed bags drop into a collection bin.
Evita has been the production coordinator and floor manager at Parisi's roasting facility for the past eight years.  We asked her about her experience utilizing the TE-10C machines. "The weigh controller allows us to switch between bag sizes in quick and easy steps. Also, calibrating the machine and ability to change the speed as we need to is simple." – said Evita.
Equipment Summary:
(3) TE-10C Fillers
(3) Band Sealers
Package Sizes: 12 oz | 2lb | 5lb
Ingredients: Ground Coffee and Whole Bean Coffee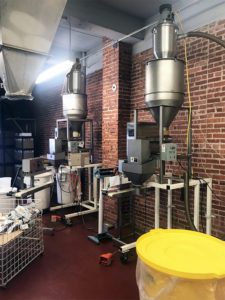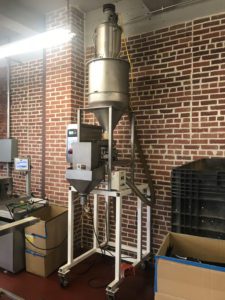 Download the Project Profile Here
Watch the Coffee Baggers in Action