Magnum Systems has manufactured a variety of custom equipment needs for bagging and packaging customers across the globe. Our ability to collaborate with customers and provide a solution for their exact needs has been a staple in our continued success in the market.
End users of packaging machinery have to come up with ways to become more efficient in producing their product. If they can find ways to use one machine and accomplish 2 or even 3 different operations to keep their lines moving efficiently the ROI will far outweigh the original capital equipment cost.
Our customer produces various materials and specialty chemicals for a wide range of industries around the world. The systems we are focusing on today are designed for polyethylene pellets and a powdered chemical that is a UV stabilizer.
Polyetheylene Pellet Dual Use Packaging System
Equipment Highlighted:
Material Handled:
Application Requirements:
Accuracy of fill
Flexibility of machinery to fill multiple styles of containers
Small footprint and limited ceiling height
For the polyethylene pellets we designed a filling system that was modular and could fill 500kg bags, 25 kg valve bags, and 25kg open mouth bag in boxes all from one point of access.
The main benefit of the filling system is the ability to not have to divert product from one packaging line to another. This reduces equipment cost, overall footprint and equipment stack-up height. The IBC3000 bulk bag filler is equipped with an inflatable spout and dual wall discharge spout for inherent dust control. It also features a flex boot that can attach the discharge spout of the bulk bag filler and the inlet hopper of the Model C air packer.
The air packer was outfitted with a heavy duty carbon steel frame and fork truck pockets for moving the air packer in and out of the filling area. Additional features on the air packer are detachable fill spouts that allow the operator to switch from filling valve bags to open mouth bags/boxes within a matter of minutes. The fill spouts are designed with quick clamps for toolless changeovers reducing downtime. For other customers we have also designed the valve bag filler on casters to be rolled in and out of position which reduces the need for a fork truck.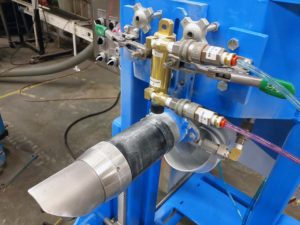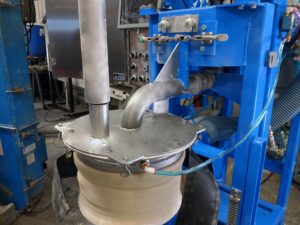 Powdered Chemical Packaging System
Featured Equipment:
Material Handled:
Application Requirements:
Dust Control
Accuracy of Fill
Flexibility of machinery to fill multiple styles of containers.
The second application was for the same customer and is of similar design but this time there was ample ceiling height and larger footprint area for the equipment to be placed so the air packer did not have to fit under the IBC 3000 bulk loader.
For the powdered chemical product a system was designed again to fill 500 kg bulk sacks, 25kg valve bags, and 25kg bags in boxes. The Model A valve bag air packer is the better fit for the powdered product. The Model A Inlet chamber is designed with an integral butterfly valve, the product is released into the chamber then the blower initiates along with internal air fluidizing pads to move the product through to fill spout and into the valve bag. During the fill cycle a pinch valve on the spout is used to control the bulk and dribble fill cycle to ensure accuracy of target weight is met.
This system features a gravity diverter valve to direct product to either the bulk bag filling station or the valve bag/open mouth bag in box filling station. The end user can quickly divert from one line to the other to minimize downtime between packaging operations.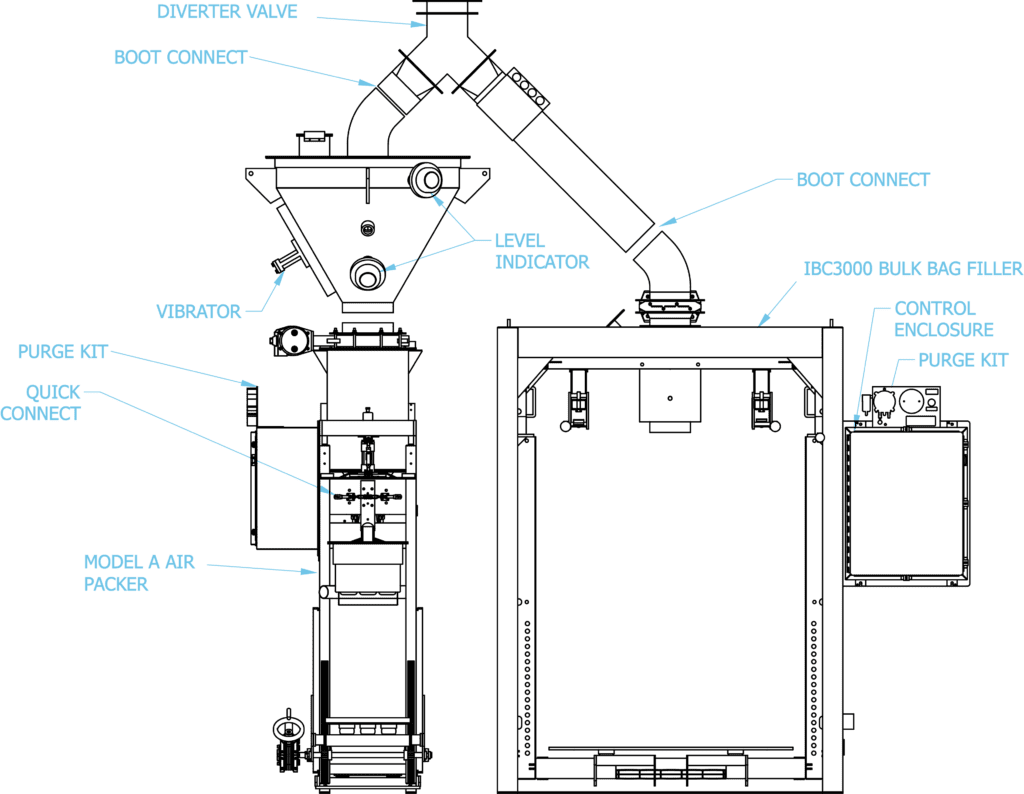 Why Us?
One thing that sets Magnum Systems apart is the ability to provide this type of packaging automation system. We can take our standard products, add some options and create modular, versatile, packaging machinery that you can't just pull off the shelf. We engineer, design, and manufacture bulk material handling systems that keep your line moving.