Location: Pratt, KS
Contact: Jim Gatz | Plant Manager
Materials Handled: Organic Alfalfa, Salt, Choline Chloride, Pea Fiber, Agri Mos, & Brewers Yeast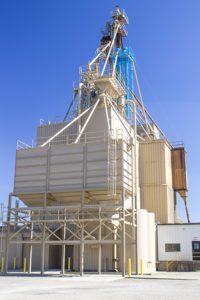 InLine in Pratt, KS has been in operation since 1970, producing high quality livestock and animal feed minerals and supplements formulated to maximize performance using ingredients with the highest nutrients and digestibility available. They have a high reputation and expert staff. InLine has been the free choice mineral and protein supplement provider for livestock and animal feed producers in the area.
Jim Gatz has been the plant manager of InLine for 12 years, he was in need of new packaging equipment with his current operation at capacity. One of his customers increased demand on some of their pet food blends. "When we started looking for a company to provide us with bulk bag unloaders and bulk bag fillers we wanted to stay close to home for technical support and quick turn-around on parts ordering", said Gatz. Talking with the sales team of Magnum Systems and their Manufacture's Representative, Jim felt that Magnum could meet the equipment expectations and also be a company that was going to stand behind their product.
Initially InLine was only planning on installing a bulk bag filling line after the unloading and blending equipment for the ingredient process system. As conversations continued the need for an additional 50 lb bag filling station was agreed upon and Magnum Systems was able to provide a viable solution. The equipment was commissioned in the fall of 2017 and since then the additional bagging system has allowed InLine to better serve customers. "With our expanded capability we have started manufacturing pet food premixes for another customer in 30 and 50 lb. bags." said Gatz.
This packaging system includes: a manual bag break/dump station, (6) bulk bag unloaders, (3) with actuated cut off gates handling the granular ingredients, (3) with rotary valves handling the powder ingredients, (3) drag conveyors, micro ingredient discharge system,  blender, 50lb open mouth bagging system and a bulk bag filling station. The various ingredients are loaded into the manual dump station by hand, while the IBC2000 bulk bag stations are loaded by fork truck, and then metered into the drag conveyor and transferred to the blender.
Once blended, ingredients are conveyed to one of two bagging stations: the APO 50lb bag filling system, or to the IBC3000 bulk bag filling station. Once bags are filled they are manually palletized by the operators and moved by fork truck and pallet. The complete packaging line includes dust collection and integral controls for optimal handling and producing of the pet food nutrient blends.
We asked Jim about his experience working with our team he had this to say; "Magnum Systems was very knowledgeable and easy to work with, giving us new ideas to help streamline the project". Secondly Jim had remarks on his satisfaction with the operation of the system, "One of the best things about your equipment is the simplicity of the design that works in a very sophisticated system. It is easy to maintain and clean and has been very reliable."
Application Summary:
Ingredients Handled: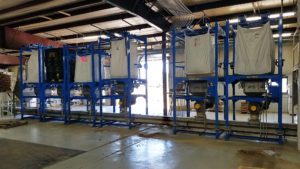 Unloading and Material Conveying:
Manual Bag Break/Dump Station
IBC2000 Bulk Bag Unloaders

Side and pan material conditioning
Load cells for accurate weight control
FT12-4 Rotary Valve Feeders
Actuated Cut Off Gates
Drag Conveyor

Transfer ingredients to blender

Micro Ingredient System
Blender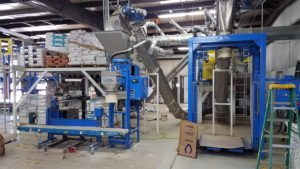 Bulk and 50# Bag Fill Stations:
IBC3000 Bulk Bag Filler

Double wall, inflatable fill spout for dust control
Integral controls with T4000 weigh controller

APO Auger Packer

Product agitator for increased material conditioning
Bulk/Dribble fill cycle for accuracy
Enclosed discharge with inflatable spout and dust vent
Integral controls with T4000 weigh controller
Integrated sealing conveyor and sewing head.