Often times in life the simplest solution is the best solution.  Magnum Systems Series II Hopper Top Diverter Valve is a study in simplicity.  Created after years of dealing with other types of valves, the Series II Hopper Top Valve (aka Disc Divert or Fill Pass type valve) is a result of progression born from regression.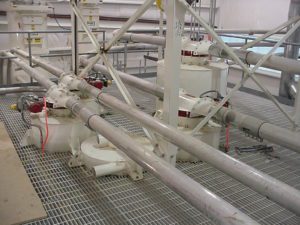 Hopper Top type valves are used when customers need to fill multiple bins from a common source.  They offer a reduction in cost by allowing convey air to be routed to a remote source, thereby reducing the required number of filters in a system.  This reduction in filters often reduces capital costs, decreases the number of air emissions permits required and/or reduces head height required at the destination.
How the Hopper Top Valve Design Works
Hopper top valves work by placing a divert mechanism that pivots open or closed into the convey stream.  When opened, the divert mechanism allows product to flow into the bin on the "front" side and the convey air to escape the bin and configure down the "back" side to another bin or a remote filter.  When closed, the bin is bypassed altogether in favor of another bin for filling.
The most common design in the industry for this involves placing a machined blade with close tolerances, much like a rotary valve, into a cast housing and acting as a divert mechanism.  This was the design of Magnum Systems "Smoot Branded" original, or Series I valve.  While rugged in appearance, this valve has drawbacks to its design.  Because there are machined clearances, the valve can leak small amounts of material by when not in use.  Also, the machining process and castings are quite expensive, especially in stainless steel product construction.
Alternative Uses to Hopper Top Valves
Another commonly used alternative in hopper top valves is to use a double actuation device.  This is done by either taking two flapper style valves and setting them opposed at 180 degrees from each other, or by placing two ports on a common manifold top and interlocking knife gates on them so that both are diverted/actuated in one path or the other (The latter being often referred to as a Fill Pass Valve).    This method seals better than a machined valve and does not have castings, so it's less expensive to build, however it can created "Dead" pockets for material to build up in and is subject to wear due to its tubular construction and use of internal seals.
Magnum Systems Series II Hopper Top Diverter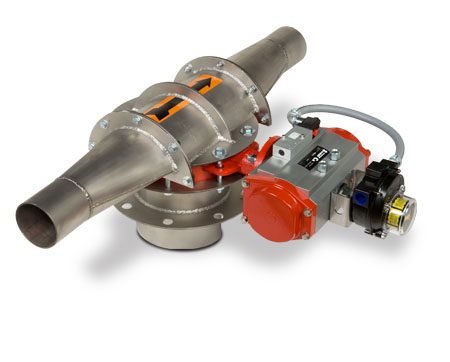 The Magnum Systems Series II Hopper Top diverter valve is based around a simple concept by alternative.  A resilient seated butterfly valve is placed into service with fabricated transitions around it.  When actuated, the butterfly disc, a cast item, is the divert mechanism, so the wear/impact concerns are reduced.  When closed, the resilient seat provides a dust tight closure that doesn't leak.  There are no dead pocket areas for product to accumulate.  And while the disc is cast, the rest of the valve, which is much less subject to wear, is fabricated to reduce cost.
The end result is the Series II Hopper Top Diverter provides the best of both worlds and a low cost alternative to help provide a more efficient system solution to your pneumatic conveying needs.