Dense phase conveying minimizes wear with abrasive product while packaging automation systems reduces labor and increases safety. 
Plant Location: North Western Virginia
Material Handled: Aluminum Silicate
Material Transfer
Four dense phase transfer systems were provided.  The first system moves material from a ball mill to a storage bank of 8 silos.  The remaining three dense phase conveying systems move material form the silos to one of three packaging stations or truck load out.  Because of the extremely abrasive nature of the product, dense phase conveying was used to minimize the effects of wear.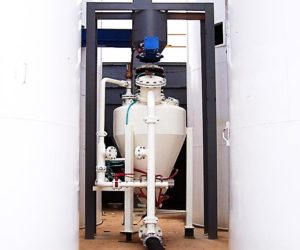 Packaging Automation
Material needed to be packaged into both 50 & 100 pound valve bags and 2,000 pound bulk bags.  The material required different machines for different size mesh material.  100 mesh and smaller were to be packaged on an impeller packer while 48 mesh and larger material used an air packer to fill valve bags.  A separate bulk bag filling station was also used.  Because of a desire for minimal operator interface, the systems we designed to include automatic bag placing, palletizing and stretch wrapping.
Project Scope:
Dense phase transfer of 4 grades of material from an existing ball mill to new intermediate storage
Dense phase transfer of 5 grades of material from intermediate storage to 1 of 2 valve bag packing lines, bulk bag packaging or truck load out.
Filling of larger mesh material into valve bags by means of an air packer
Filling of smaller mesh material into valve bags by means of an impeller packer
Automated check weighing, labeling and palletizing of valve bags
Filling of nominal 2,000 pound bulk bags of all grades of material
Filling of trucks of all grades of material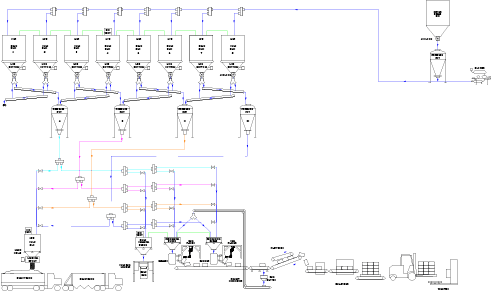 Purchasing Rationale:
Increased efficiency of ball mill usage by creating intermediate storage to account for differences in milling and packaging times for various grades of product.
Automation of packaging process to reduce manpower requirements and hazardous exposure.
We can Help
Have an upcoming project or need to rehab a current process in the chemical industry? Contact your regional manager to discuss pneumatic conveying and packaging automation system capabilities.